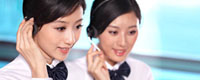 Name: Carol
Tel: +86-18318441980
E-mail: carol@casomedical.com
Add: Xixiang, Baoan District, Shenzhen, P.R. China
Skype: carolluo2013
WeChat: casomedical
whatsapp: 008613530566349




Product name : Electrolyte Analyzer

Product No. : 202343165025
Details:
High-quality ISE measurement system, samples are directly measured, the sensor is completely maintenance-free, and the life span is more than 1 year;
Once sampling, getting the result of K+、Na+、Cl-、Ca2+(Li+)、pH within 40 seconds;
Automatic calibration and automatic tracking of electrode status ensure the reliability of test results at any time;
It adopts 5.7-inch high-definition LCD, resistance touch screen and man-machine interactive operation interface;
All Fluidic system with solenoid valve, washing the sample channels automatically to reduce clog and carryover into low level;
Advanced optical sample detector is adopted to adapt to different types of samples;
The instrument has perfect QC procedures. Three QC groups can be set to test and count QC samples, and any two QC groups can be used to calibrate the instrument;
It has a complete data management system, which can store more than 300 sample test results, and can be connected to any type of LIS / HIS system.
Intelligent reagent management technology with RFID identification.