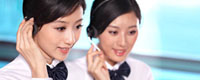 Name: Carol
Tel: +86-18318441980
E-mail: carol@casomedical.com
Add: Xixiang, Baoan District, Shenzhen, P.R. China
Skype: carolluo2013
WeChat: casomedical
whatsapp: 008613530566349




Product name : Real-Time qPCR System

Product No. : 20234317204
Details:
Leading Pettier Elements from MARLOW,ensure long life of 1,000,000 thermal cycles and fast ramping rate up to 6℃/S。
T-opticalTM technology,reduce background noise,improve fluorescence signal sensitlvity and singnal to noise ratio.
The angle of display could be adjusted to the best view.
Simultaneous detection of wells,not in sequence.
Users could view qPCR process and run PCR protocol through self-contained 10"TFT LCD and touch screen.
Innovative SSLPTM CCD imaging technology for qPCR,avoiding more moving parts problems like overheat,wear and off center.Not optical fiber based, avoiding break and block by dust.
Long life LED lamps to excite fluorescence ,no need for replacement in the future.
Sample wells with temperature gradient function, convenient to optimize PCR conditions
Equipped with our "Optimun qPCR Design& Analysis Software" for remote operation of instruments and analysis of results.
The drawer design of sample block,makes it easier to plck and place PCR tubes and plates
The "Optimun qPCR Design& Analysis Software" could be upgraded for free.